We are a community minibus service
We help reduce social isolation and promote independence by providing a door to door minibus based community transport service in rural West Sussex. 
Operating since 1974, we provide transport for shopping trips, outings, lunch club trips and some sightseeing excursions. 
We offer this service to anyone in our community – from young to those in advanced years and less mobile, including those living in isolated areas where there is not an adequate public transport service.
We also offer our minibuses for use by local community groups.
We're based around West Sussex villages
We operate 11 minibuses organised around villages in West Sussex including Ashington, Billingshurst, Petworth, Pulborough, Steyning, Storrington, Wisborough Green and villages around Barnham. You will notice our buses in and around the villages in our West Sussex Minibus livery. 
Our Users
We provide a door to door service to Members, enabling then to go both on regular shopping trips and special outings.  We return passengers safely to their homes, and assist (if required) with carrying their shopping bags to their front door. Our users (and volunteers) enjoy making new friends and sharing time together on our trips!
Our minibuses are used by a variety of community groups including Senior Lunch Clubs, the Scouts and Guides, Horticultural Societies and other formal and informal special interest groups.
Our Organisation and Volunteers
The Community Minibus Association (West Sussex) is a registered charity, run entirely by unpaid volunteers. Operating as West Sussex Minibus, the charity has been helping people get out and about in rural West Sussex for more than 40 years. Click here to find out how we're organised.
Volunteers get involved with driving and escorting on trips, as well as administration and fund raising. We're grateful for all their efforts.
For further information please call

0300 772 7735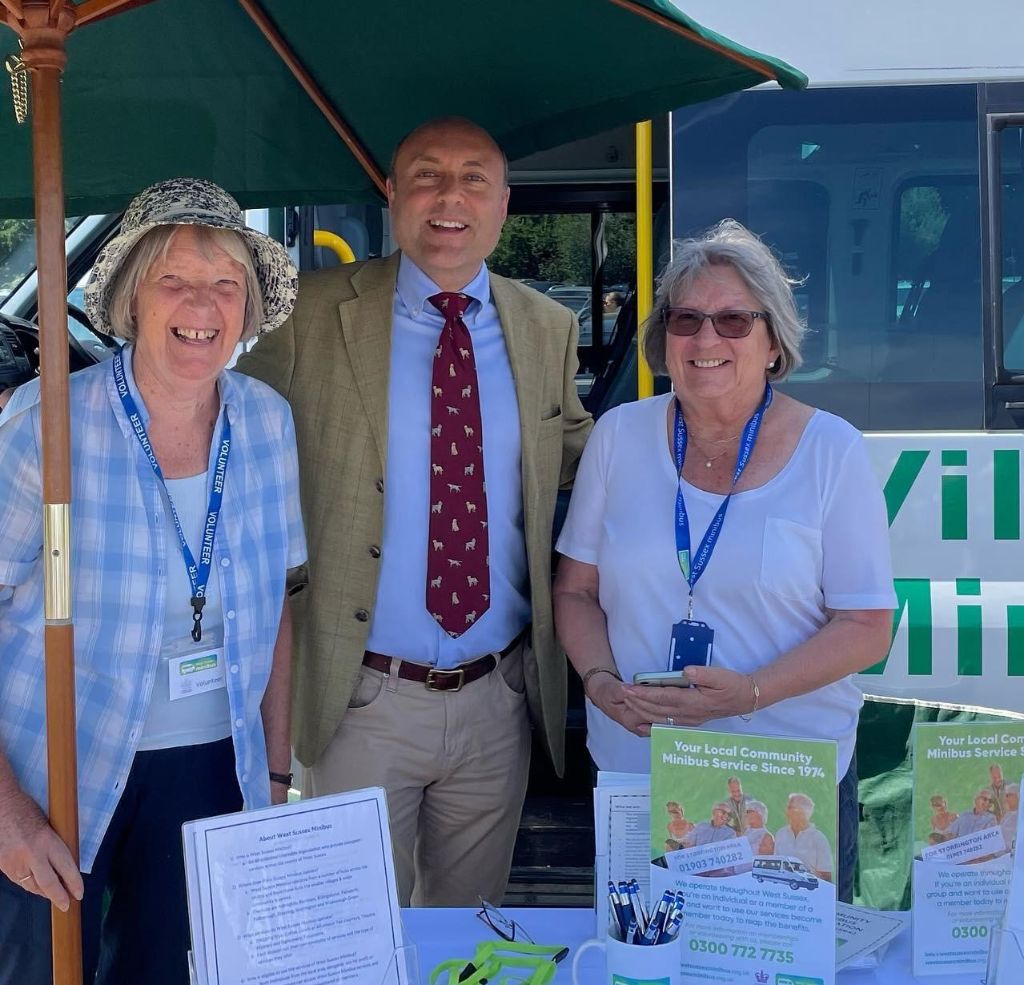 Vice President of the Community Minibus Association and Local MP, Andrew Griffith, visits our stand at this years West Chiltington Village Day. Pictured are volunteers with Andrew including the Local Coordinator Jane Jeffries.